Live webcam 24h/24
Guided tour of the property…
Once the doors are opened (with videophone, digital code access, security camera) you are immediately welcomed to the spacious and natural setting, with its breath-taking view over the bay of Saint-Brieuc.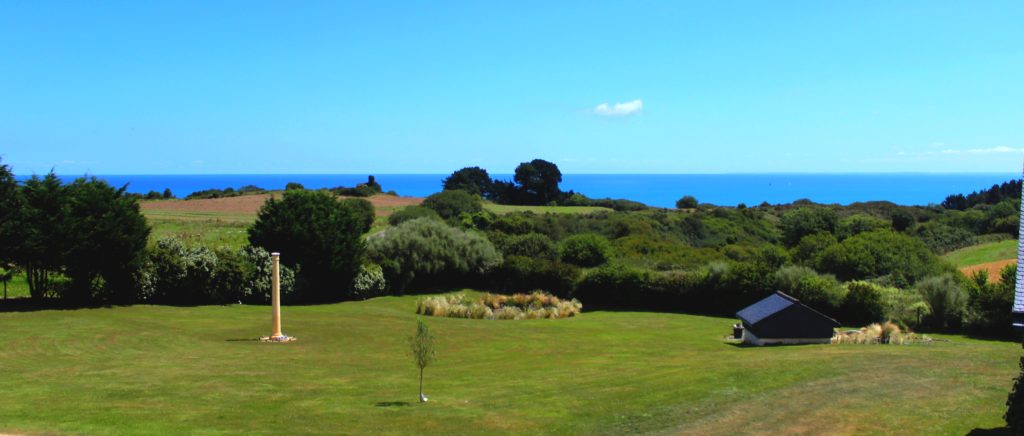 This set consists mainly of a villa and a large outbuilding.
A completely reshaped landscaped park…
The Domaine de Minard was constructed in the early 2000s on a plot of maritime pines and agricultural land that had been remodelled to look like a golf course, offering vast expanses of lawn with concave and convex shapes.
At the 4 cardinal points…
At the far end of the park is a grove of elms trees which adjoins an old wash-house. This wash-house, called "Vantan Veur", was used by the local community. It is fed by spring water, the overflow of which flows into the park in the form of a stream.
At the southern end, there are a dozen of tall pines that survived the storms of 1987 and 1999. To the west, on the Kerdaniou road, the estate is sheltered from strong winds by tall and mature cypress trees. To the east, on the Moulin de Minard road, there is a 100 meters long bank with ground-covering plants.
Facing the sea, an ornamental pond equipped with rubber membrane and water jets produces a soothing atmosphere, reminiscent of a waterfall or a stream. This pond is fed by spring water as well as by rainwater from the villa and the outbuilding.
The property is also equipped with a borehole with submerged pump allowing the pond water to be renewed at will by operating a simple solenoid valve.
Direct access to the sea
At the end of the park, a security gate provides direct access to the sea and to the GR 34 hiking trail via a wooded pathway.
Ready to visit the Villa?