Domaine de Minard
Luxury property for sale
.
We are delighted to welcome you to the Domaine de Minard website, a contemporary property setin the heart of a landscaped park measuring close to one hectare (2.2 acres), with breath-taking panoramic views over the bay of Saint-Brieuc and just a short walk from the beaches and the wild coastline that will delight lovers of the sea and nature.


This property is for sale and this site has been developed to facilitate a complete remote visit. In addition to its villa, its outbuildings, its equipment and its 4 closed garages, the Domaine de Minard is above all about the quality of life and it's unique ambiance. You will be able to have a preview of the property, its majestic setting and envisage living in the property by looking through the pages of this website...
.

Domaine de Minard
A unique property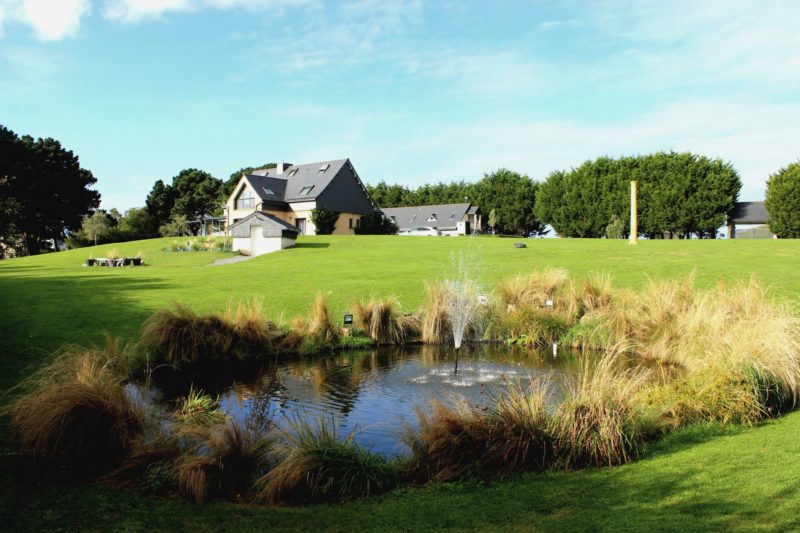 The Domaine de Minard is set in the heart of a green site of some 9060 m² (2.2 acres). Its landscaped and wooded park, with a breathtaking panoramic view over the bay of Saint-Brieuc, makes it a really exceptional place that you can fully benefit thanks to the multiple outdoor terraces, without any vis-à-vis and in complete privacy.

If you are already in love with the best that Brittany has to offer, then you will know from the first moment that this property offers you a unique setting which will be adored by your family and your friends ... as it did for us...
Domaine de Minard
An atypical villa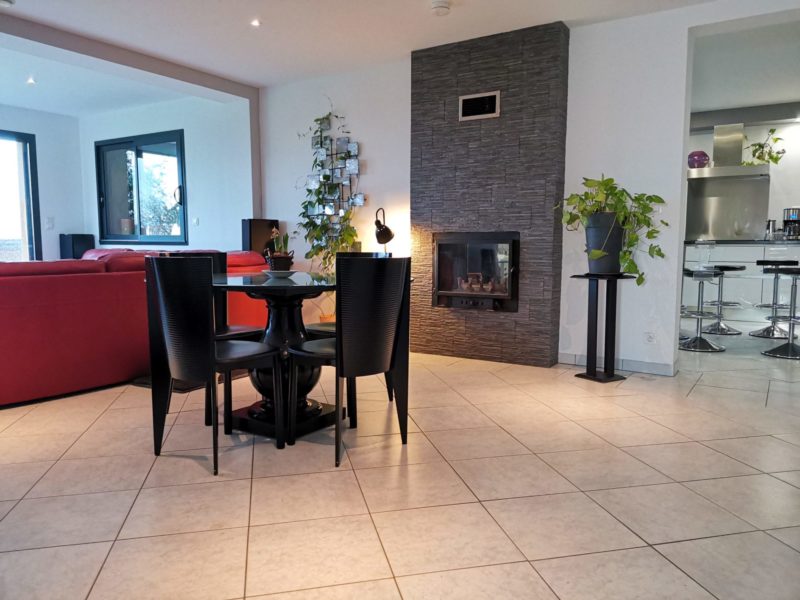 The Villa has a living space of 250 m² (2700 sq. ft.) and was fullt renovated in accordance with French RT 2012 stipulations. The renovation works were designed and supervised by an architect at a cost of close to 600 000 euros (receipts available).

Environmentally friendly with low energy consumption, the Villa has 2 new kitchens, under-floor heating on the ground and first floors, geothermal heating, double-flow CMV (controlled mechanical ventilation), 3 thermodynamic water-heaters, a central vacuum system… All installed equipment is high quality and includes a home automation system and video monitoring to ensure unirvalled comfort.
Domaine de Minard
A gite and a studio with income potential
The property has a magnificent outbuilding which houses a large 60 m² gite. A 35 m² studio, adjoining the villa, is also fitted to accommodate guests or tenants. Both are successfully rented out for vacation rental and bring in substantial rental income. The villa can also be rented out if you wish, although it never has been up to the present time.

All commercial strategies and the marketing tools are in place to continue this activity easily and so maintain a comfortable rental income. A website (moulindeminard.com) has been created to facilitate direct booking. Many online ads are already generating significant traffic from potential tenants. The numerous reviews of former tenants confirm how much they appreciate these exceptional properties...
3 strengths of this property
Domaine de Minard
A magnificent park overlooking the sea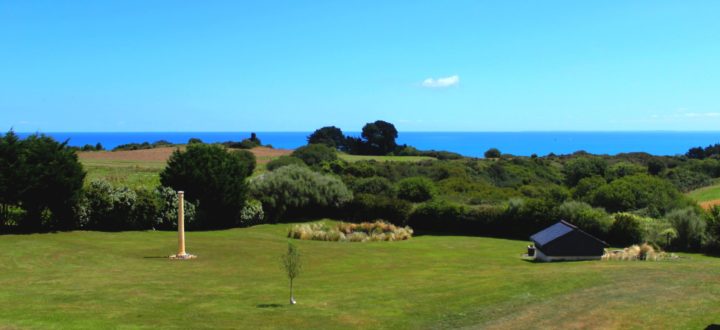 Located on the seafront, the Domaine de Minard enjoys an exceptional setting and view, as you will see from our video filmed by drone. The other photos featured on the site confirm this impression. This breath-taking view is the one that will greet you as soon as you enter the property.
At just a few steps from the discreet beach of Pors Pin, the privileged setting which is yours is wild and unspoiled. Although this beach is public, few people find their way here, as we are away from the tourist circuits.
Luxury equipment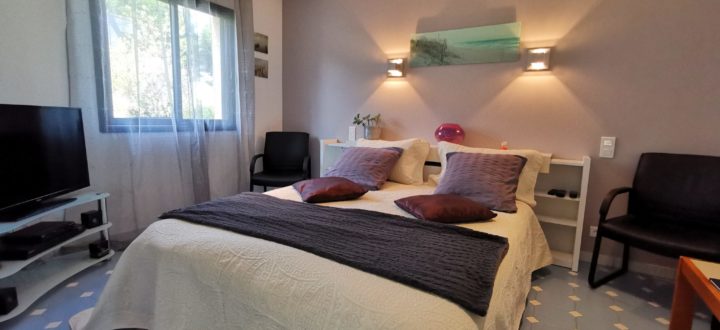 In both the villa and its outbuildings, the property benefits from high quality equipment such as the private fitness room in the basement, which is not immediately visible without entering the premises.
Outdoors: slate-roofed porch with attic space, 2 remote-controlled gates, integral rigid fencing + security gate, tarmacked courtyard and paths, geothermal energy installation with its dedicated building, garden pond, borehole and submerged pump, stone pillar from the Périgord, solar panels, 6 security cameras, 8 garden taps, 3 robot lawn-mowers…
Inside ? You will find out for yourself during your visit…
Two outbuildings for vacation rental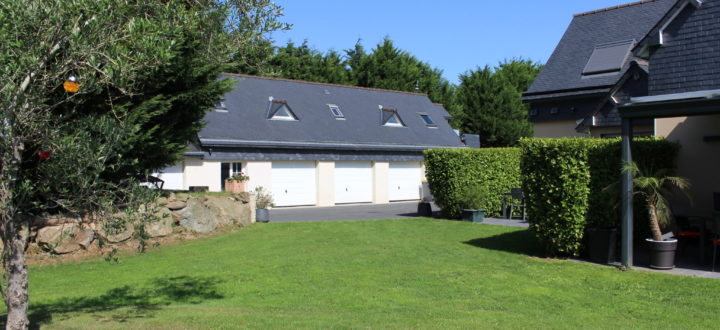 The past success and excellent reputation of the grand gite and the studio is testament to the high quality finish throughout the property. Obviously it's not just the quality of construction and the fixtures & fittings, but also our magnificent Côtes d'Armor region which makes this such a sought-after holiday rental in Brittany.
Located in a green, protected and non-constructible area, the Domaine de Minard is only 600 m walk from the blue pebble beach of Pors Pin, and 2 km from the Bréhec marina with its large sandy beach, its nautical center and sailing school, its bars and restaurants. The 2 seasonal rentals are only 2 km from the village of Plouézec with its shops, its new supermarket, its services (post office, bank, pharmacy, doctors, osteopath, dentist, nurses, physiotherapists, etc.) and its tourist office. . . And only a few km from Paimpol. Ideal for a holiday surrounded by nature, away from the crowds!